PYC
INTERNATIONAL ENERGY CONFERENCE 2021
"The Enhancement of Energy Security for a Sustainable Future"
PYC ENERGY AWARDS WINNERS
PYC PAPER COMPETITION WINNERS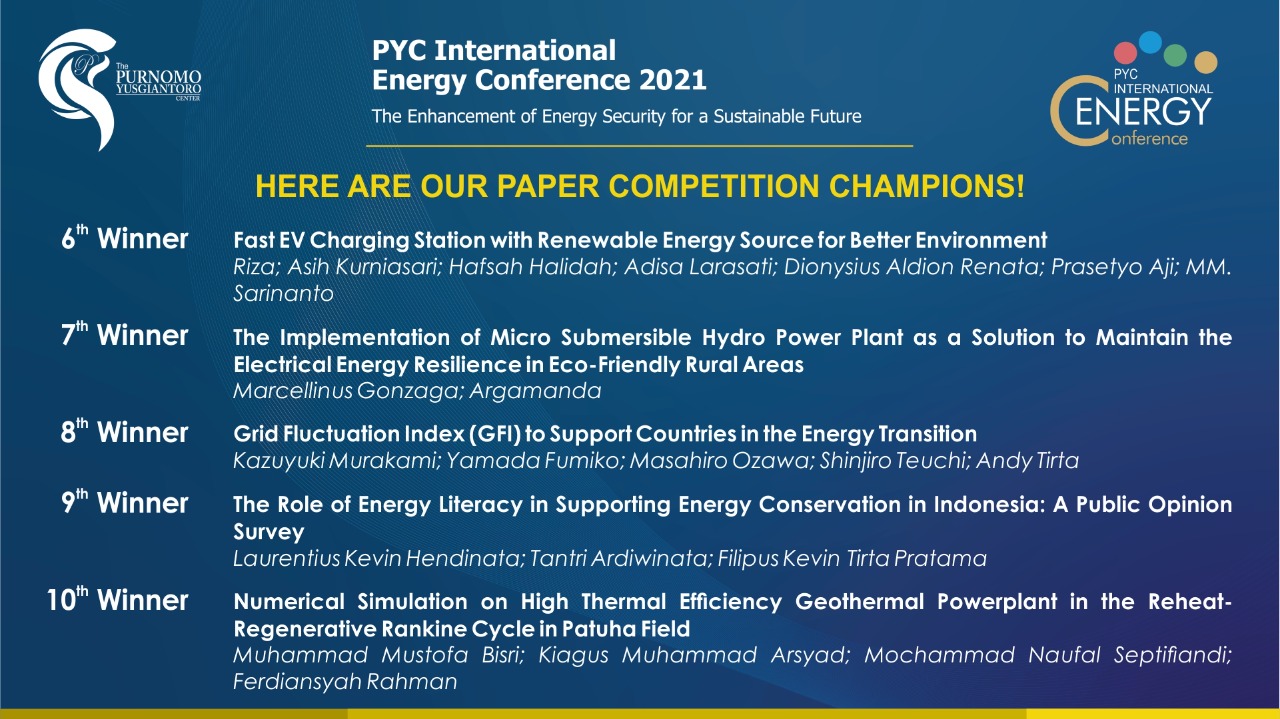 ESSAY COMPETITION WINNERS
INFOGRAPHIC COMPETITION WINNERS
PHOTO COMPETITION WINNERS
PYC INTERNATIONAL ENERGY CONFERENCE
Energy is such a multidisciplinary system that is interwoven in every possible dimension of human growth. Amidst mounting challenges that range from supply insecurity, environmental issue and geopolitical unrest, the energy development undoubtedly faces a monumental test of transformation to a more sustainable future. The COVID-19 pandemic pushed many countries, including Indonesia, to reflect on its energy security and development.
The PYC International Energy Conference will be a premier venue of engaging scholars and practitioners who are passionate and well-driven to make change in transitioning the world to a sustainable energy future. It is the place where diverse individuals will come together and discuss opportunities and challenges facing our today's energy system.
"The Enhancement of Energy Security for a Sustainable Future"
The Enhancement: This point highlights the importance of enhancing energy security, especially in the recovery period post pandemic.
Energy security: Energy security is the ability to ensure a sustainable energy for people by considering its availability, affordability, accessibility, and acceptability.
Sustainable Future: This point guarantee the involvement of the sustainable development principle in the energy security plan.
This topic is expected to present a new perspective on enhancing energy security, especially during the recovery period post-pandemic. However, the energy security plan must also support sustainable development principles. Thus, the conference discussions are not only focusing on fossil energy but also the development of clean energy, renewable energy, energy efficiency, energy conservation, and energy diversification.
This strategic talk aims to provide a high-level and comprehensive discussion on how energy and environment sectors are synergized strategically to encourage energy transition while accomplishing the net-zero emission target in Indonesia. Moreover, the net-zero target in Indonesia requires international collaboration to accelerate the energy transition. This talk will also provide an opportunity to understand better the importance of international relations dynamics of ensuring an achievable transition to a net-zero target.
The plenary session aims to provide insights and latest findings into the strategies of renowned experts on global energy security from various perspectives. The session also aims to educate participants the importance of enhancing energy security in order to achieve a sustainable future, especially in Indonesia. The plenary session will deliver these goals from (4) four perspectives.
The Economic and Financing perspective will highlight the opportunities and challenges on financing energy projects in Indonesia. It will also cover current and potential innovative financing schemes available for funding green and sustainable energy projects. Not only the discussion will be about financing energy, but also how finance could ensure a sustainable energy development for the future.
The Global Energy perspective will provide identification and assessment on how pandemic COVID-19 affects the energy security, energy equity and environment sustainability (energy trilemma). This is to give a clearer vision on why understanding the energy trilemma, especially energy security, is essential for every country in addressing such global dynamics or unprecedented situations.
The Indonesia's Energy perspective will provide the condition of Indonesia's energy security before and after pandemic COVID-19. It will also cover the plan and current implementation of national energy policy to meet the target national energy mix by 2030 to support Indonesia's sustainable future. It will also highlight the major challenges of enhancing national energy security for a sustainable future.
The Indonesia's Environmental Perspective will highlight the environmental aspects of the energy sector development in Indonesia. This perspective is crucial to lead Indonesia in strategizing energy planning to strengthen energy security while achieving net-zero emissions targets at the same time. Moreover, this session can emphasize the importance of climate policies in Indonesia.
The parallel sessions aim to discuss deeper into finding the best policies and strategy in strengthening Indonesia's energy security for a sustainable future viewed from (4) four different energy sources: (1) oil and gas, (2) coal, (3) electricity, and (4) new and renewable energy. We will invite (4) four expert speakers to share their perspectives and recommendations for each energy source topic. The parallel sessions details are as follows:
"Mapping Out the Role of Oil & Gas Industry to Achieve a Sustainable Future"
"Advancing the Downstream of Coal Industry to Support Energy Security"
"Electrifying the Last Mile for a Sustainable Future"
New and Renewable Energy Session
"The Role of International Organizations, Non-Governmental Organizations (NGOs) and Local Communities to Support NRE Development"
Day 1 : Wednesday, 6 October 2021 (GMT+7 - Jakarta)
Registration and Preparation
Competition Winner Announcement
Day 2 : Thursday, 7 October 2021 (GMT+7 - Jakarta)
Parallel Session: Electricity
Parallel Session: New and Renewable Energy
Parallel Session: Oil and Gas
Parallel Sesion: Electricity
Parallel Sesion: New and Renewable Energy
Parallel Session: Oil and Gas
The Purnomo Yusgiantoro Center
 Jalan Wijaya IX, No. 12, Kebayoran Baru,
Jakarta Selatan, 12160, Indonesia
Phone : +62 21 720 3917
Fax : +62 21 22 77 5786
For conference inquiries:
 iec@pycenter.org